Last updated on April 17th, 2023 at 12:45 am
Read Time:
5 Minute, 38 Second
Cheating husbands are a nuisance. They will never be at home since they have an excuse to be at work or somewhere important. Wherever the man will be, you are never invited at all or maybe until a certain time.
Cheating husbands are a nuisance. They will never be at home since they have an excuse to be at work or somewhere important. Wherever the man will be, you are never invited at all or maybe until a certain time.
What about his phone? You rarely touch it since he is the one with it. Now, it's time to catch your cheating husband with Spyic. You will use it on his phone once and always get the data somewhere else.
He will never see it coming, and nothing will happen to his phone apart from a few invisible changes. So, shall we get started?
Part 1: Spyic – Your Cheating Husband's Phone Seizer
Your husband may always find a way to skip the topic of where he was. On the other hand, his phone will not lie to you. It will tell you everything you need to know once you deploy Spyic in there.
This is a spying application that has been used by millions of other people in more than 190 countries. It has also received a few shout outs from major news outlets such as New York Magazine and Business Insider.  
So, something is interesting about this small piece of software. Spyic will show you everything from who he called to what he typed on his phone. All you need to do is follow a simple set up process to get started.
We will shed light on what Spyic can do in the next section. It works on both Android and iOS devices without any rooting or jailbreaking. You don't even need to know about such techniques.
This app has the cutting edge technologies that will bypass every hurdle in the phone. It also uses stealth mode to hide when spying on your husband's phone. That implies your husband will only hear the capture news from you.
His phone will remain as it was before the Spyic setup. To get the cheating evidence, you have to install Spyic once on his phone if he uses an Android. Don't worry about the installation if you can't do it right away. Just wait for the right moment when he is not around.
At that point, it will take you five minutes at most to set it up. If your husband uses an iPhone, you don't need any download or installation to proceed. Spyic will use his iCloud details to note down every move. You only need to verify them after creating an account online.
Part 2: Spyic Phone Monitoring Features
Now, after setting up Spyic, here is what it will reveal about your husband:
All the calls he made on his phone
Every text that he receives or sends. In iOS, you even get the deleted iMessages
Browsing history
His current location and all the other places he went to
All the stored photos and videos
Social media activities form every platform used
Calendar notes
Keylogger reports where you get what he types on his phone. You can use it as a method to collect his usernames and passwords
All of these are shown to you in your online account. That means you don't need his phone anymore to view the updates. Spyic has a user-friendly web-based dashboard that is compatible with all browsers.
So, you can use any device with an internet connection to view the results. This is why Spyic is the best app to catch cheating husband. All the results you get are always protected from unauthorized access.
Spyic uses a secure cloud that syncs your husband's phone details instead of storing the data. When you log in, the data is available in your account, but when you logout, it leaves with you. From catching your cheating husband to protecting the information, Spyic does it all.
If that sounds like a good detective, then follow these steps to catch your cheating husband.
Part 3: How to Catch your Cheating Husband Using Spyic
What You Need
If he uses an Android, you need to install Spyic once on his phone. It should have OS version 4.0 and above
For Apple devices, get his iCloud details. Spyic works with iOS 7.0 or later
Reliable internet connection
A valid email address
Steps to Catch Him
Step 1: Sign up for an account on the Spyic website using your email address and a preferred password. Next, choose your husband's phone operating system and pay for a subscription.
Step 2: You will later receive a confirmation email with the login details, receipt, and setup guidelines. In Android, you will also get a download link.
Step 3: For Android, use the link sent to you to install Spyic on his phone. Make sure you activate stealth mode by selecting the 'Hide Application' and then finish up the installation.
Step 4: For iOS, after the email, login to your account and verify your husband's iCloud credentials. After that, select your husband's device and wait for the Spyic and iCloud synchronization.
Step 5: Once you get back to your account, you will see the dashboard. It will have the phone's summary and the features we mentioned on the left part.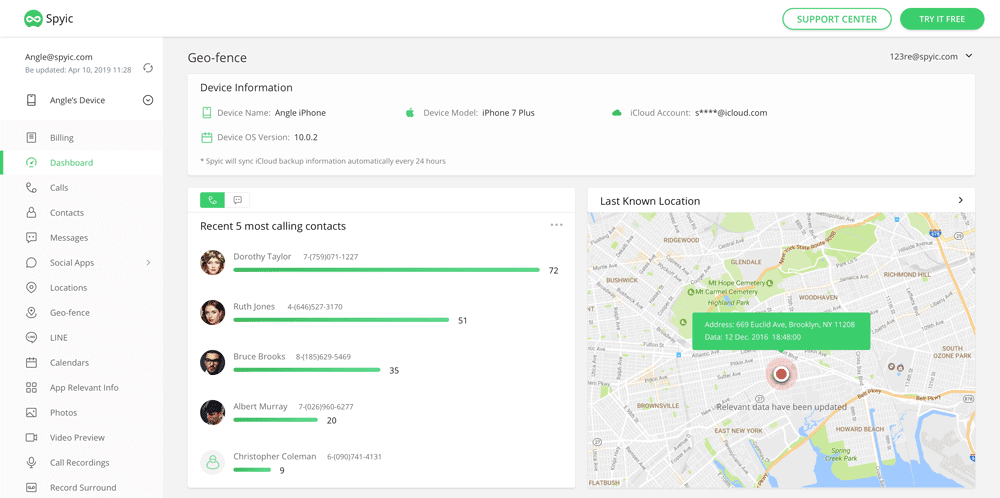 Click on each of the links on the menu to see your husband's phone activities.
Part 4: Why is Spyic You Best Bet?
The following are qualities that make Spyic the preferred way to catch a cheating husband:
It does not need any rooting or jailbreaking
You can set it up in less than 5 minutes and start monitoring your husband's activities
Spyic uses stealth mode to hide when fetching the details. You husband will never see it
You get all the updates in real-time in your online account
You can log in anywhere to see the information
In Android, Spyic occupies less than 2MB. In iOS, it uses the iCloud
Spyic does not drain the battery when syncing with the online cloud
You can uninstall this app remotely from the online dashboard. So, you can spy on your husband and remove it without alerting him
Conclusion
Now, it's time to set up Spyic on your husband's phone and see what happens. We can guarantee you that it will be as quiet as a mouse. Everything he does using his phone will go to your online Spyic account.
Please note that whatever you find out should only be used between the two of you. You could not use the evidence you get in a legal dispute if your husband didn't know about the spying.
---
Free Subscription
If you want to be notified when we post more quality guides like this one, sign up to our free subscription service and you will receive an email when a new post is live.
Join 545 other subscribers.
No need to worry, we will not be filling your inbox with spam and you can unsubscribe anytime you like.
---